Announcing a 2-day exclusive event for successful couples & individuals called to create their ultimate relationship!
Uncover all of the passionate possibilities as you get on the path to a deeper connection and the aliveness of lusty desire!
Why settle for the embers of dissatisfaction when you can have a blazing fire of passion in just 90 days?
Path To Passion
April 18th & 19th 2015
Los Angeles, California

(A $997 Value – Limited Scholarships Available)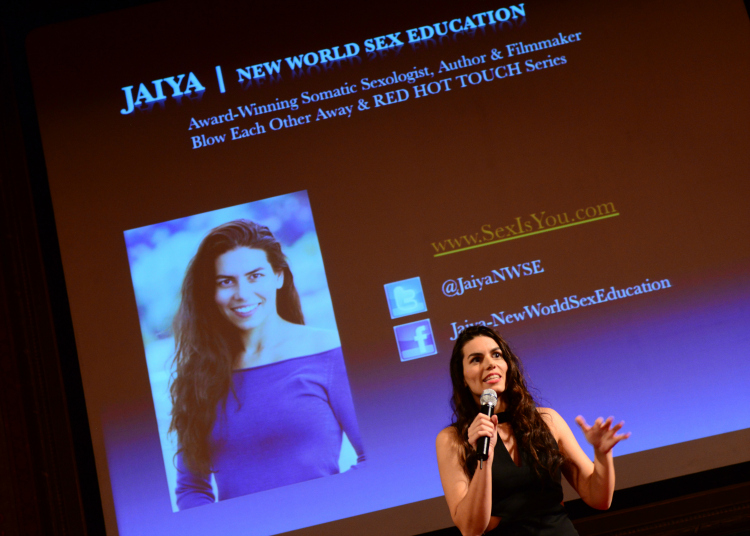 It's unfortunate that 1 in 3 long-term relationships is sexless and sadly even more, have no passion. While couples love each other greatly and can't imagine not being together, when it comes to passion, the satisfaction is lacking.
Embers lead to feeling alone even though you are married; embers lead to feeling like dried fruit on the vine. Embers when not fanned – die. When fanned, they can turn back into a blazing fire.
The fire of passion leads to youthful aliveness! The fire of passion leads to happiness, abundance, and enjoyment of life.
Are you ready to stoke the fire?
I know, you want to make your partner happy. You want to have fun in bed instead of feeling anxiety and pressure. You want to feel that hot sexy attraction again… and you want to feel that you partner desires you too.
The good news is that I'm on a mission to help couples get more sex, more desire and total sexual fulfillment.
Take Sam and Kelly for example. They really loved each other.
But they couldn't figure out what happened to their sexual attraction. She felt angry and started to criticize him. He lost his confidence. That resulted fear of initiating. He was concerned he'd never be able to please her. The more he shrank the more she resented him sexually.
Then they came to see me. After 90 days of intensive work they started to melt the pain and anxiety and started to enjoy and look forward to a good romp! They improved the frequency, fun, fulfillment and fire in their sex life and they felt more complete than they had in years.
I want to help you feel the way Sam and Kelly now feel about their sex life.
That's why I'm offering you a Full Tuition Scholarship (Worth$997) to my next event. I want to help you not just survive but thrive!
I am offering a limited number of these scholarships, when they are gone they are gone!

(A $997 Value – Limited Scholarships Available)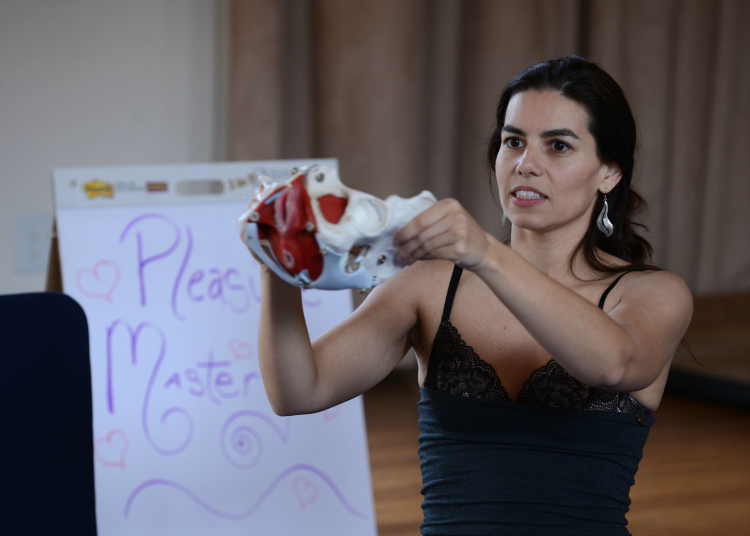 The Problems Path To Passion Solves:
Dissatisfaction– Not knowing how to get satisfaction for yourself or how to make your partner happy.
Infrequent Sexual Connection – Are you caught in scarcity, never knowing when you'll have sex again?
Performance Anxiety– Being so caught up in your head that you can't find your arousal or enjoyment of sexual encounters.
Fear: of failure, of pain, of loosing the person you love…fear that you won't get an erection… fear you'll climax too soon or not at all…
Frustration that your sexual and emotional needs are not being met
Trying to communicate only to learn that you weren't speaking the same language
Worry that nothing will work and you'll end up either as roommates or in a divorce

(A $997 Value – Limited Scholarships Available)
Single?
You are absolutely welcome at this event! Have you ever heard the saying "An ounce of prevention is worth a pound of cure"? Over these 2-days, you will learn how to prevent a passionless relationship as well as be enlightened on ways to become a better lover to yourself and a future partner. How much more confident and attractive will this make you? Increase your value by educating yourself. Increase your own personal pleasure and unleash ecstasy by uncovering techniques that bring you more satisfaction. Learn how to have a lover melt beneath your fingertips by learning how to speak their erotic language. Why not start your sexual mastery training now? It can only improve your life.  Both single men and women are welcome!
My Story…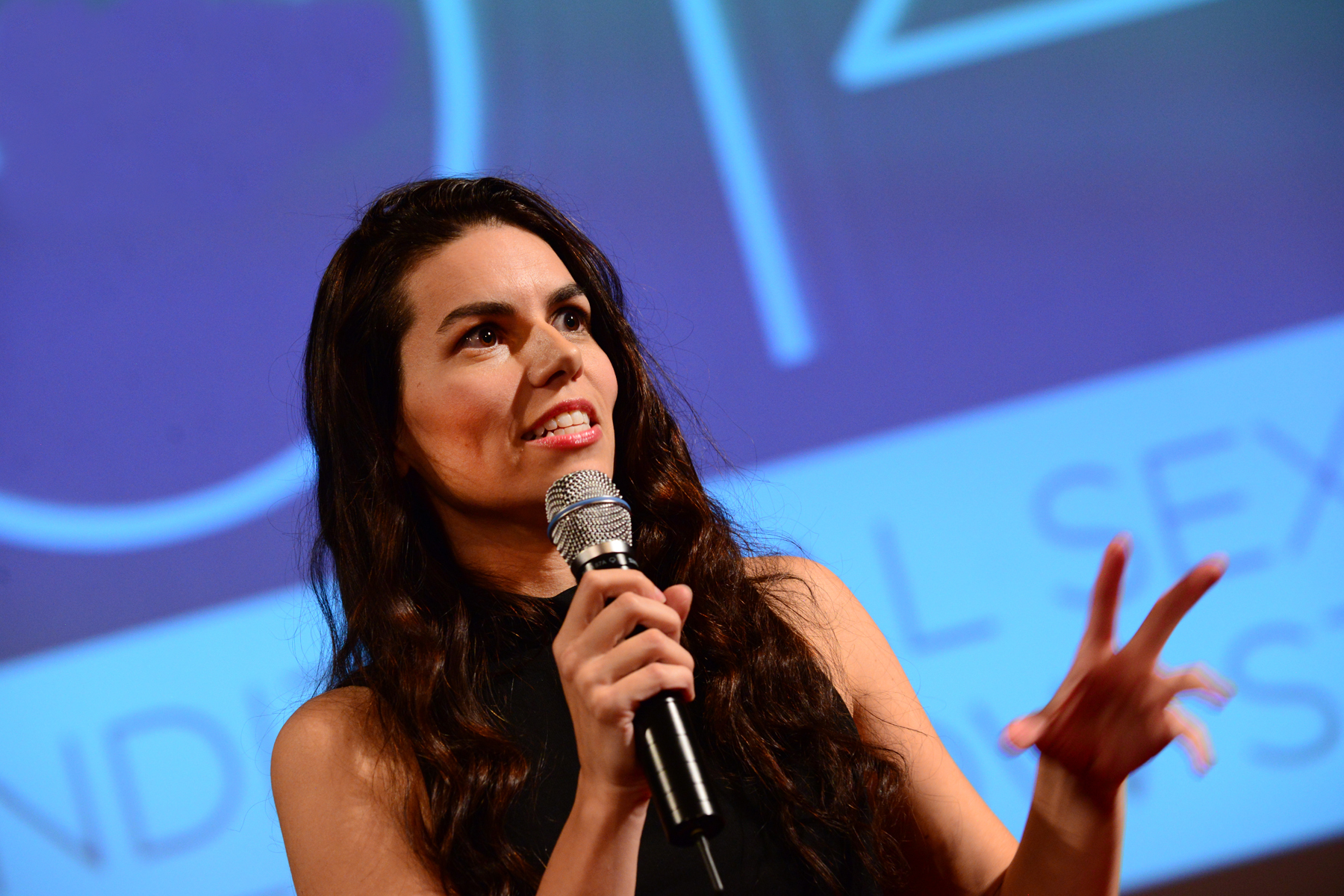 I have the best job ever!  I've been fortunate enough to have been featured on major media such as Good Morning America, Nightline, The Doctors and as the Vh1's Season Premier Star of "I'm Married To A ….".  I'm the best-selling author of 4 books and I've shared a stage with leading mentors such as Tony Robbins, who has coached millions to success over his 30 year career.
As a sexuality coach, award-winning sexologist and educator I've helped thousands of men, women and couples get the sex lives they so desire. I can proudly say that I walk my talk and have the hottest, juiciest most amazing sex life with my partner Ian.
But….
It hasn't always been this way, I've had my own ups and downs when it came to my sexuality.
Believe it or not, when I first started my journey I was wracked with pain, guilt, shame and fear. I started this path because I wanted to discover how to overcome the challenges I faced.  I went from total numbness and dumbness about sex to being a sex goddess. I became multiple orgasmic! I had sex for hours and was so alive and so ecstatic that I couldn't be happier.
Then I became a mom. Not just a mom, but a mom running two successful companies and in a relationship. I found myself working three full time jobs with no time left over to actually cultivate a relationship. On top of that I was suffering from intense pain from scar tissue in my nether regions. I was crying myself to sleep at night. I felt alone, out of alignment with my mission, and when I looked in the mirror I saw an old, bitter, unlovable woman. It was painful physically and emotionally.
I went from a sex goddess to a freaked out mom.
My partner was working 60-80 hours a week. I was exhausted. He was exhausted. I had to do something and quick. I fortunately saw the signs that our passion was dying. I started getting snippy at him for no reason. I started having these emotional explosions. I dried up. He stopped initiating.
That's when I reached out for help. And a miracle happened. I found solutions. I got rid of the scar tissue, the pain and the fear of pain. I implemented time management tactics that gave my partner and I time to rekindle our fires. I set my priorities in order. And the results were amazing.
I went from a freaked out overworked mom back to a sex goddess again!
What I discovered is that when I was fed up sexually I became more alive and radiant. I felt youthful and happy. I stopped struggling so much in my business and started to make more money. I learned more possibilities that I didn't even imagine I would. And most importantly I felt more connected to my partner Ian than I ever had. The pleasure returned, the color in my cheeks returned, my enjoyment of life returned!
Over the years I've worked with thousands of clients in my private practice. At one point my practice was 95% men, and they all complained that they weren't having sex at home. They loved their wives and didn't want to cheat, but they felt that they were missing something vital to their success in life. It was a need to have connection that didn't feel like it was an obligation for her. He wanted to feel desired and ultimately he wanted to make her happy.
Then the tables switched and I was fortunate enough to work with mostly women in my practice. Then I heard the tales from the female side. The women felt unwanted, unappreciated, and many were not satisfied sexually. They wanted to be ravished, romanced and revived. After my personal experience, I understood why 85% of my practice consisted of men and women who were not experiencing the frequency of sex they desired or the quality of sex they desired. And I began my mission to help.
I discovered how to create hot juicy passion that lasts – in just 90 days!
Note: This isn't a boring, hard work, 90 days. This is a fun, fulfilling 90 days where we celebrate your sexuality and your love for each other. Yes, it takes commitment, but I'm thrilled to help you discover what you have been missing. I love what I do… and I can't wait to see you!
Path To Passion
April 18th & 19th 2015
Los Angeles, California

(A $997 Value – Limited Scholarships Available)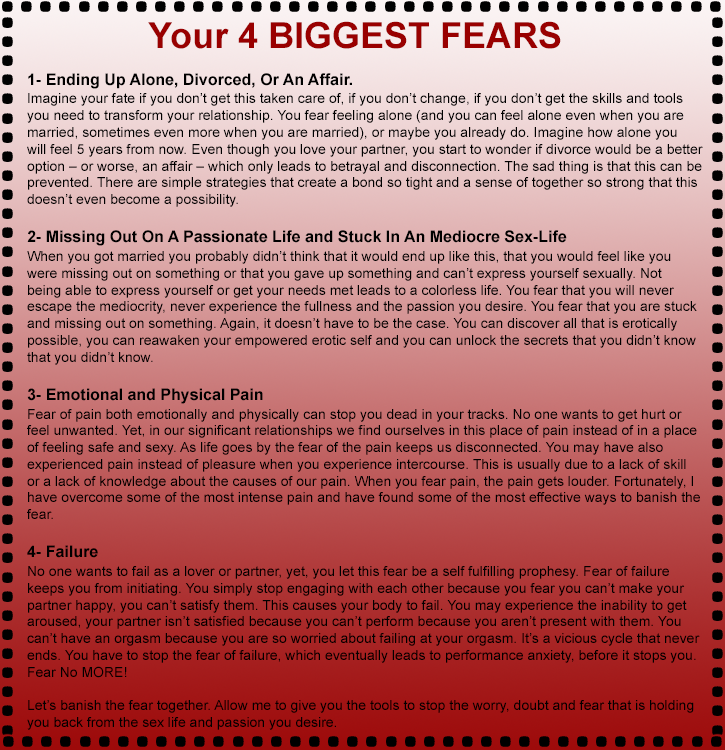 Path To Passion is an event with a supportive community. And don't worry if you have fear about being in a group talking about your sexuality. This is a hands-off, clothing-on event. There will be no nudity and no sexual interaction with any of the other participants. That said, it's not for everyone, but if you are committed and you are serious about making a change then this is the event for you.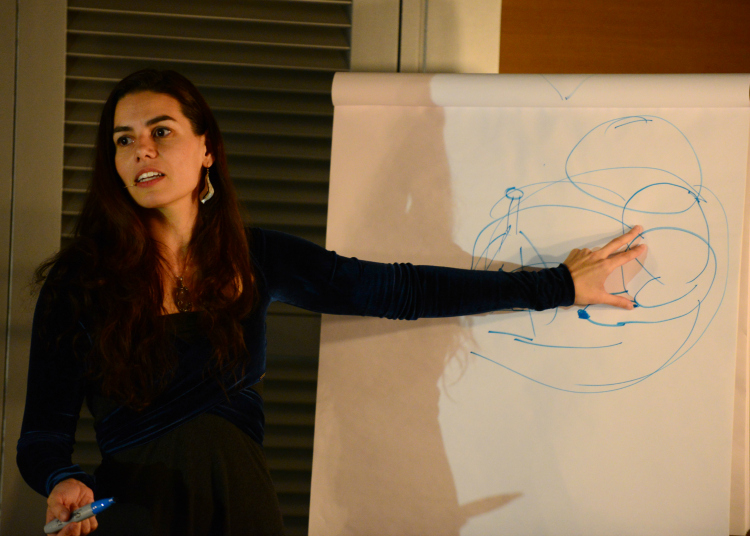 (A $997 Value – Limited Scholarships Available)
I highly recommend you spend two days with me allowing me to show you how to fan the flames of desire so that you can create lasting passion!
Register for your scholarship today!
See you there!
Until then, Fill Your Life With Pleasure!
Jaiya
Frequently Asked Questions
Need More Proof? Read Some of Our Client Testimonials!
Dear Jaiya,
I came to you seeking some help for a number of concerns – my sexual confidence, my sexual abilities, my concern around ejaculating too soon, my concern about really being "in tune" with a partner on multiple levels, and a concern around making sure I understood how to "give myself" to a relationship again after my divorce. First, I must thank you for the love, patience, guidance, honesty, receptivity, and energy you gave to me during our day together. You put me immediately at ease, you made me feel very comfortable being me, and allowed me to open myself to being a "truer me" around you. But maybe most of all it was an overwhelming sense of freedom and openness to be vulnerable and "in the moment. It was also an amazing day, because never in my life had I experience the "full body orgasm" that you helped me find. I was somewhat bewildered and astonished about the events of the day as I made my way home. I found myself more aware of so many things, it was as if even the air had a texture or a sound to it that I hadn't known before.
Now let me give you the update. I have found my sexuality more stimulating, more patient, and more fulfilling than I knew it could be. I am more in-tune with a partner, and have found myself with more stamina and endurance than I can ever recall. More importantly, I find that I am so much more focused on the experience of a partner that sex lasts longer and is much more mutually satisfying. The difference is amazing, though I am sure there is so much more to learn and ways to make it even more incredible.
I initially expected that sexuality would be the only end result — but you did warn me to be prepared for transformation. My new partner has told me many times how "easy" it is for her to be with me, how I seem very confident yet not arrogant in any way, and how we both seem so comfortable to be ourselves with each other. That was not a likely quick outcome before my time with you. So I find myself in my personal relationships being much more me, "reserving" my true self less, and being very happy with who I am (or who I am becoming, the "truer" me).
So I write to you today to say thank you, for all that you have done to date. I hope that hearing of these changes, all positive, all very personal, all very meaningful, will make you happy to see how much your teaching and how much you personally have impacted my life and my life's satisfaction. My transformation is certainly not complete, but as I look back it is something I truly didn't think would occur on all these levels. But I am so pleased that it did.
…Rarely does my wife fail to achieve orgasm now. We have a small but effective cache of toys and aides. We now regularly engage in oral sex. And anal play is developing. (She loves her "butt massages.") I am somewhat embarrassed that after 14 years of marriage, I was so naive and unskilled in the art of lovemaking. I have continued to learn and train my skills as a lover, and have helped lead my wife past many inhibitions, to open her up more to her sensuality…my deepest thanks
You have opened up a new world of possibilities for our sex life. We have been married almost 26 years now. It has helped us fall Madly in Love with each other all over again. Not just through sex but in our daily lives together. It's still hard to believe, but loving every second of it.

(A $997 Value – Limited Scholarships Available)